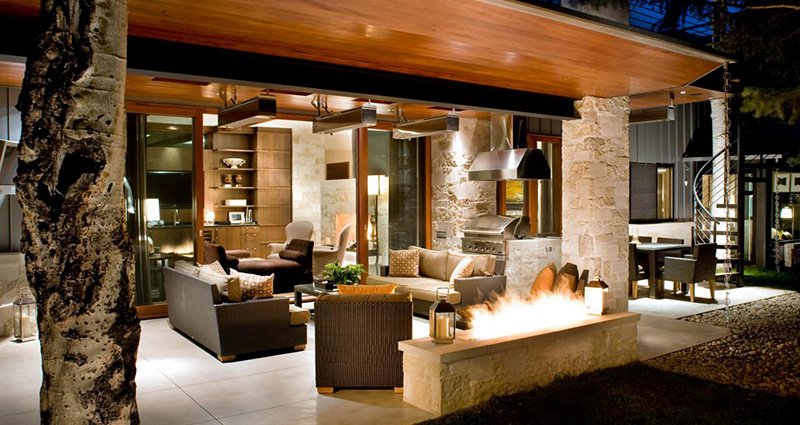 Outdoor kitchens can be beneficial, especially in warmer areas in warmer months. But, this luxury item does not have to be limited to this. Outdoor kitchens with open-flame grills are perfect for roasting marshmallows without all of the mess of a fire pit-and with added safety around the kids. No matter where you are, outdoor kitchens are quite the commodity, and fairly simple to build.
Outdoor kitchens typically have three main parts: a sink with a cabinet below it, a grill with nobs below it, and a food preparation area with a cabinet below it as well.
These can be fun for grilling, roasting marshmallows, barbecuing, and typical every day cooking-or all of the above. You are about to go on a brief journey through the simple process of building the basic outdoor kitchen-the basic island. This is a simple design, which is perfect for parties because it gives room to be part of the group while hosting a meal or a party. Stone-specifically demented cultured stone- is easy to maintain, durable, and easily cut. The steps for building an outdoor kitchen can be condensed into nine steps: building and sheathing the frame, attaching and trimming the lath, troweling the first coat, scoring the mortar, back to buttering the stone, setting the first course, shaping and trimming the large stones, veneering the rest of the frame, and installing the features. The process of building an outdoor kitchen has a lot of freedom, based on the specific dimensions and features you wish to have for your kitchen.
Building the Sheathing Frame
This process is fairly simple. First, you must figure out how big you want the frame, since the frame sets the precedent for the rest of the kitchen. Then place pieces of wood the size of the kitchen you want together in the shape of a box. Make sure the base can support weight of the grill you are using; you want to make sure your kitchen does not collapse. Leave an extra quarter inch for the mortar.
Attaching and Trimming the Lath
This step is also pretty simple-place the lath around the wooden box, and trim the excess of what is taller or longer than the wooden box. You do not want extra lath hanging off the end of your box.
Troweling a Scratch Coat
Place mortar on trowel. Spread mortar around evenly, so it is not too thick or too thin.
Scoring the Mortar
Purchase a scorer. Run it along the mortar, trying to make straight, even lines all through the surface of the mortar.
Setting the First Course
Make L shaped stones. Place them in the corners.
Shaping the Stones and Trimming the Larger ones
Make other stones, trimming the larger ones.
Veneering the Rest of the Frame
Fill in the rest of the mortar with stones.
Install Fixtures
Install the fixtures you desire.
Enjoy your outdoor kitchen!