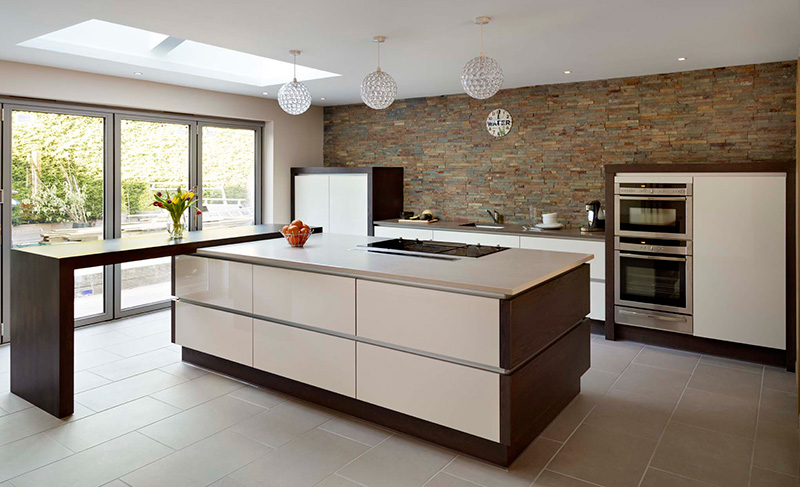 Designing a Kitchen makes it look attractive. Contemporary design is the best and modern way of designing. The Kitchen is the main office of a home and needs to be well designed. The cabinets are the furniture built in the kitchen for cooking equipment, food storage and many more. Many options are available for kitchen design, these are some of the important guidelines to make your kitchen look attractive.
Lighting: It's important to have a good lighting design in a kitchen. LED products have less heat output, it minimizes money and prevents food from becoming too warm. Where you put your light source is also important, if you have a high kitchen ceilings, add up-lights to the top of cabinet. Add some accent and ambient lighting. It makes the kitchen brighter so you will only need little downlights.
The Work Triangle: The size of the three sides should be between 13 feet and 26 feet. If the distance is too small, the kitchen will be cramped and blocked, if it's too large, cooking can be harder. If you keep your areas to one part of the kitchen, other spaces will be available for use without conflicts. The lines of the triangle must not be blocked by anything.
Modern kitchen have become multipurpose rooms therefore you need to know what you want your kitchen to be. Put all pots, utensils, spices close to the cooker for cooking to be easy. Make sure you pay attention to all the measurement when setting up your kitchen.
Floors: Kitchen flooring is one of the designs that will make your kitchen attractive and also it is important to use a kitchen floor that can withstand traffic. Depending on your budget, Ceramic tile is affordable; though ceramic can crack and be cold underfoot therefore a rug can be used for the discomfort. Natural stone has an elegant look that make kitchen look very attractive. They are durable and cool underfoot. Natural stone is expensive but it add a natural beauty to your kitchen. Solid wood lasts indefinitely with proper care. Liquid can cause damage on wood if not cleaned immediately but note that wood will never go out of style.
Designing your kitchen can be harder if you do not know the fundamentals of the design. You need to come up with a good kitchen design to make it comfortable for family and friends. Once you have identified the room you will use for your kitchen, the next thing is the design. It is also important the kitchen faces the southeast where morning sunlight will fill the room. Safety needs to be considered in the kitchen. Many other factors also need to be considered when you are designing your kitchen, whichever way you want to design your kitchen, note that contemporary design is the first thing anyone will notice.