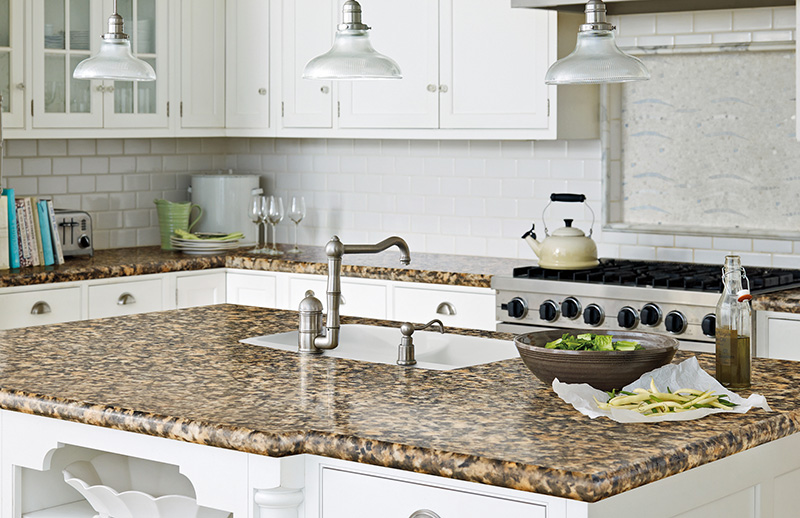 You may be thinking of updating or renovating your kitchen. Perhaps you just want new kitchen countertops. Sometimes, people move into a new home, and find that this is the first thing that needs to be changed. Often a the countertops have not been changed since the eighties. Of course, you don't want to go with the latest fad, so this is also something to think about.
Functionality
You have to ask yourself what you are looking for. Some people stay in a studio apartment and just warm something up in the microwave. Others are passionate about cooking and use their surfaces for just about everything. This is the difference. You may use your surface for rolling out dough, and you need the right countertop for this. Stainless steel or marble is a good option.
Decor
Of course, the countertops have to fit in with the rest of the kitchen, and in some cases the home. Many people like to stick to a theme, such as that of Tuscan or contemporary. If you have a really rustic kitchen, consisting of wood and terracotta tiles, then marble wood not be ideal. You can find tiles for this type of kitchen that will give it a lot of character.
Classic
It is not cheap replacing your kitchen countertops, especially if you have a big kitchen. However, it is worthwhile should you be making the change with the intention of adding value to your home. When it comes time to selling the property, you will find that you will be able to push the price up, just because of a small change like this. However, it is important to stay away from trends or fads. Go with the timeless look which is practical and functional.
Cleanliness
Is it easy to clean? This is a question that should come up before the installation process. It may look good, but nobody wants something which requires high maintenance. It is also important that you get something where scratches are not going to show easily. This is why many folk advise you to stay away from the cheaper versions of marble, granite or various other stones. It is worth spending a little more on something that you know is going to last. Black may be appealing to some, however, you can't always pick up the dirt and this is not very hygienic, so it is something else to bear in mind.
At the end of the day, in most cases this is the heart of the home, so it is worth your effort and time investing in something that is going to add to the atmosphere and environment. After all, this is not something that you do every day of your life.