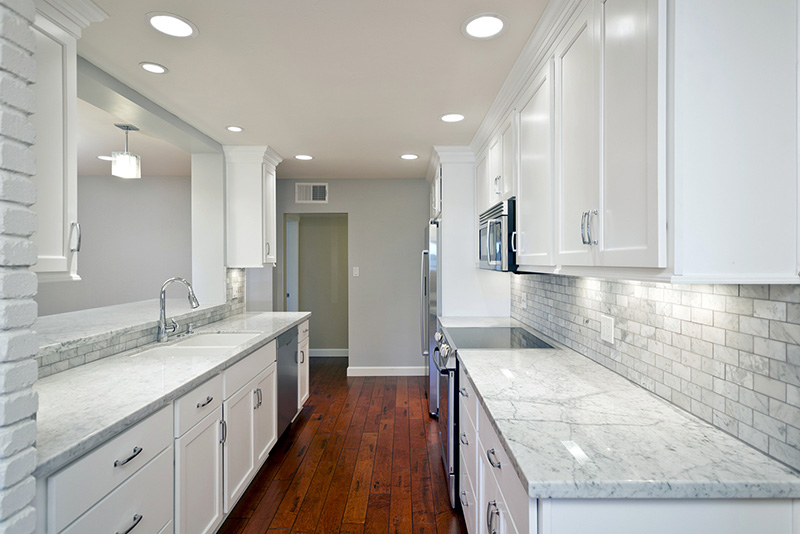 Considering how much gear the kitchen often requires, there is no doubt that it will be very difficult to keep the kitchen compact, stylish and functional. Like every other room, the aesthetic possibilities of the kitchen can vary in several ways.
No matter how bold you want to create a statement in your small space, you should know that careful editing, consideration, and creativity are the major requirements needed to establish any small kitchen design. Most kitchen spaces (no matter how small) basically rely on the convenience to extend their utility. Here are some inspirational guides that will help you infuse character and convenience into your small kitchen.
Scale it Down
A design brain can easily sprain up from small spaces much more than large spaces, especially when storage and style are fitly added to the challenging fixtures and functions of a typically small kitchen.
The truth is that a kitchen with tight quarters cannot be a jack-of-all-trades i.e. accommodating recipe hunting, laundry, cooking duties, school work and mail, except you do not cook at all. The main chore of the small kitchen is meal prep.
So it is important to get your mind focused firstly on its function, ensure that you have all the needed appliances and work areas. A bit of space can be significantly saved if you utilize scaled-down or innovative appliances some of which include pint-sized microwaves, two-burner stoves, and single sinks.
Without all the square footage, you can achieve this function which already exists. A counter-topped cart that can be rolled away especially when it is not in use should be considered if your workspace is at a premium.
Make it accessible
Do you know that tiny kitchens can feel overly cramped? Yes, this is absolutely possible in a situation in which you, as a cook cannot reach out to what is in those overhead cabinets that are towering over your head thereby making you feel boxy and enclosed in a tight space.
In such a scenario, proper organization is key. All you have to do is to get organized by choosing to convert the top cupboards to an open storage. You can also consider making use of pot racks, spice holders, and shelving. By this, your kitchen will not only look more spacious but gorgeous as it presents a great way of showing off your shiny pots and pans or favorite dishes in a small kitchen.
Mélange the materials
Your pint-sized kitchen may not be accorded with wide-open spaces, however, you still got choices. Let's face it, these choices are more available in a small space that in a larger one since everything just has to work in a small space than in a big area where imperfections or separate competing styles can be easily hidden.
Although some interesting architectural details may be found wanting (lacking) in your dainty kitchen, this does not restrict you from adding the all-essential style with compelling, countertop surfaces, color, fixtures, lighting, cabinetry, and flooring. It is more affordable to establish a unique coexistence between your granite counter top with your cabinet color in a small space and if you choose to add a pleasing curve, the better, the look.
As a tip, consider using the same style and color of cabinet pulls and fixtures so as to create a unified look, especially if you are creating a mix board with swatches and samples of all that you are considering.
Examine it
The idea of incorporating glass is one of the simplest ways of expanding a small kitchen. This can help you to improve the feeling of spaciousness by letting you see through the objects. Designers often refer to it as "negative space."
The idea can be put into perspective by installing glass door cabinets or glass tabletop or counter. You can also expand the space visually by setting up glass kitchen doors that lead to the next room or to the outside world. Your kitchen can also achieve the sparkle you need by using glass tiles that are highly reflective while you can also choose to lighten up the look of the kitchen by strategically placing mirrors within the room or in a backsplash.
More Lights Please
No doubt, your small kitchen will definitely be needing a combination of atmospheric light and task, just like any other room. Fluorescent lightings are frequently found in kitchens, due to the appealing bluish impact they create on the coloration of every object in the room which also includes food.
As a way of counteraction, the use of pendant lights should be put into consideration, so as to create a kind of an appetizing pool of lights in which the eating area is submerged in. Here are some additional easy and simple lighting methods you should try in your small kitchen through which you can experience an increased feeling of size.
Underneath the upper cabinets, you can use a more yellowish incandescent lighting shining down on the countertops. The cabinetry will tend to increase the shadowing effect of your space while providing for a greater visual movement in the area.
In recent years, lighting can be seen glowing up like starlight from the floor because it has been used in flooring. Even under the base cabinetry, lighting can be installed down onto the toe plate.
Create A Big Picture With Color
The perceive size and atmosphere of the kitchen can be transformed through the color of appliances, stools, counters, walls, and even dishtowels. Get inspired with bold colorations like a banana-colored concrete countertop and metal cabinets painted in Porsche red with celery green walls.
You can also give the room a taller look when you use light colors or pastels with some doses of white to reflect an upward show of light.