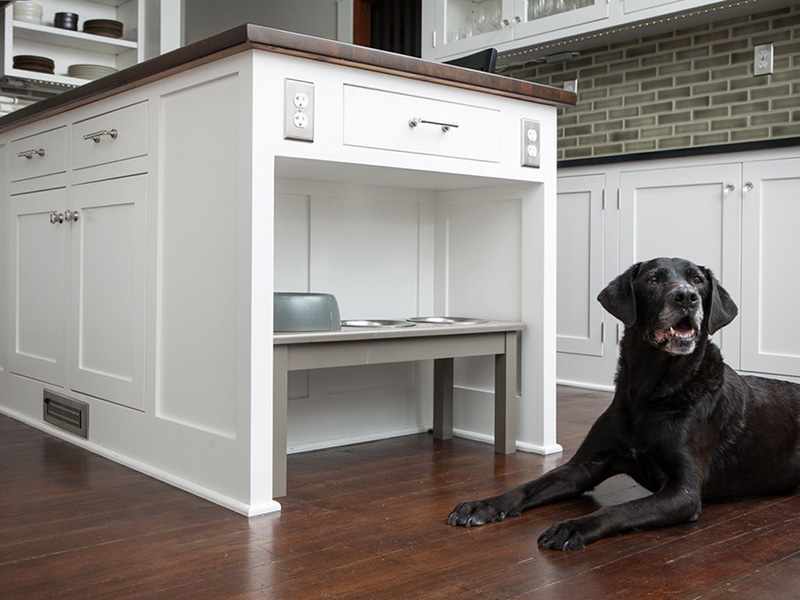 Kitchens are no longer just the domain of us humans; we have extended families like dogs, cats, ferrets, birds and all manner of other people in our family, who have to be accommodated in our kitchens.
This is traditionally the eating and living area and there are many innovative ways of making it pet-friendly, without having food and water bowls all over the floor to be kicked over. This is also the warmest room in the house and your pets will love having their blankets and baskets here to doze.
Here are a few really great ideas to have these essential utensils tucked away when not in use but easy for the pet to reach when wanted.
Have a pull-out shelf at the bottom of your kitchen cabinet with the recesses for the bowls, built in. When not in use, simply slide the drawer back in, out of sight.
An alcove cut into the kitchen island or under the window seat with the pet mattress installed, a space for bowls, brushes and treats. A private space for your pet to snuggle into.
An old fashioned triangular-shaped drawer that would in times past be used for flour is perfect for dog food. Scoop out the required amount, put into the bowl in the pulled out drawer underneath and there you have your pet's supper seen to.
Don't forget a little gated area for the pup. Everything he needs can be put into this, where you can keep an eye on him and he will still feel part of the family.
The imagination is boggling with the innovative ideas people have come up with to make their pets comfortable with the rest of the family, in the kitchen.
There is no reason for pets to be a cause for unhygienic behavior. With their beds and bowls incorporated into your furnishings, the floor will remain free of clutter and can easily be kept clean.
The most important aspect of having your pet in the kitchen is to make sure it is safe, for THEM. The whole family should adhere to simple rules like the following:
Keep the household chemicals, medications and cleaners on a shelf high enough that they cannot reach.
Put child-proof latches on all your cabinets. Some animals are really clever at pulling open cupboards to get to their food.
Make sure your washer and drier are kept closed and check before using if you have small animals.
Keep your trash can firmly closed and preferably in a cupboard especially made for that purpose.
Make sure there aren't any small spaces behind appliances that your cat can get stuck in.
You will know by your pet's habits, exactly how to go about pet-proofing the kitchen and making it a safe, warm and loving place for him and the rest of the family.