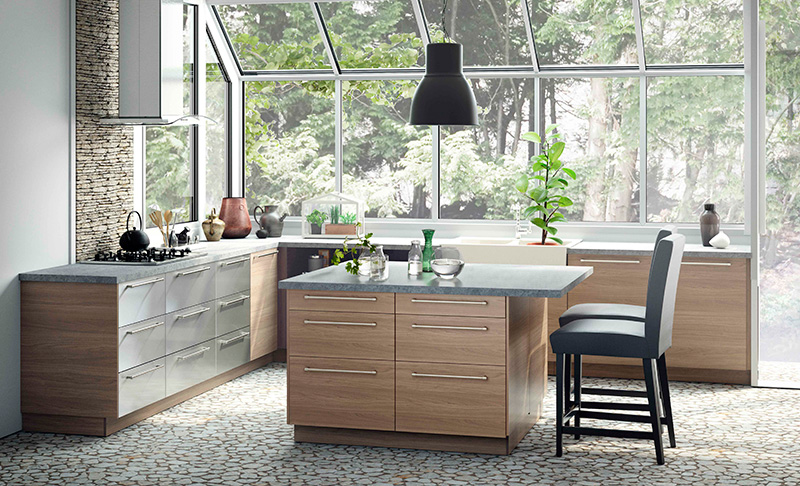 Kitchen remodeling are generally considered expensive but it doesn't have to cost all your life savings. There are quick, smart, easy and affordable updates that can spruce up your kitchen and give it that desired new look.
Painting your kitchen cabinet
If your desire is to remodel your kitchen at the lowest cost the best bet is to paint the kitchen cabinet. Painting works wonders in everything and kitchen cabinets are no exception.
Swap out cabinet doors
Replacing cabinet doors is another viable way through which your kitchen can be remodeled. You will replace your door and drawer fronts with new one according to your taste and in line with existing cabinet boxes to prevent color rioting which will defeat the idea behind remodeling.
Paint an accent wall
A great way to add beauty to a space is by putting in place accent wall. Painting of the accent walls increases the aesthetic appearance of the kitchen. You have to create a subtle contrast and choose the right paint color to get the best out of the painting. A wrongly colored accent walls does more damage than an unpainted accent wall. So keep that in mind.
Hang a pendant light
An ideal way to add light and beauty to your kitchen is by hanging a funky and decorative pendant light. It turns your kitchen to an haven of its class
Hang window treatment
A lot of us are of the opinion that window treatment and curtains are put there to maintain privacy. In as much as this is true they offer more by beautifying the kitchen.
Place a rug in front of the sink
The sound of "kitchen rug" may look absurd to you but you have to also enjoy the beauty it adds to your kitchen. The presence of the rug offer warmth and is usually inviting by making the time one spent doing some washing a worthwhile. To enjoy this exclusive beauty just get an interesting color rug with beauty any you are good to go.
Add a backsplash
Ceramics backsplash transforms ordinary walls to an attention grabber. An attractive, durable, easy to clean ceramics surface greatly improves the overall look of the kitchen.
Replace the kitchen countertop
Whenever your countertops become too difficult to maintain or is no longer a match for your design vision then you need to replace them with new well designed kitchen countertop.
Increase efficiency not size
Increasing the size of your kitchen may be good if it is too small for you but more often than not your pattern of arrangement may have led to the smallness in the first place. Check your kitchen out today, re-arrange it to maximize space and you will not believe what you have as your kitchen a beauty to behold