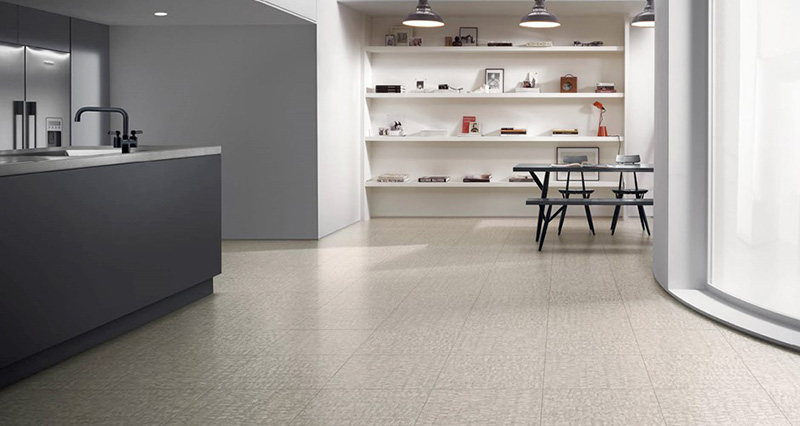 Your kitchen is the most highly traveled and most walked on area in your home. The flooring you choose can make or break the look of your kitchen as well as help to minimize housekeeping chores to keep it looking beautiful.
If you have children, you will want something that is not only durable, but also easy to keep clean. Your floor is an investment so choosing wisely when it comes to the numerous options for kitchen flooring is important.
Ceramic Tile - Designs are plentiful and choices in patterns and colors are endless.
You can find something for every budget. It is easy to keep clean if you take the time to make it part of your daily tidy up process. But the negatives are that if you have new construction your floor might settle and make small cracks in the tile. Some tile is slippery when wet and anything dropped that is highly breakable will shatter and may damage the tile. So your usage and the people in your home will make a difference. Grout will need to be cleaned and some ceramic tile needs sealing.
Natural Stone – Doesn't matter if your stone is from slate, granite, limestone, or other materials, your natural stone flooring has variation, which gives depth and beauty to your walking areas. No two pieces are the same. Each piece is different and not the same color giving your kitchen an appeal of being more upscale. It is cool underfoot and requires little maintenance. It does cost more and the tiny crannies can collect debris. Porous stone will need sealing.
Natural wood – gives warmth and charm and mature with age that make a classic look over time. There is a color wood that will work in your kitchen; you just have to choose carefully. It is timeless and a good decision. You won't have to spend money to update as you evolve your home. But, stay on top of the spills as liquids can damage and stain. A sand and refinish is always a good move and your wooden floors will never go out of style.
Vinyl - is less expensive with endless patterns and colors. It fits a tight budget and you can be creative giving our floor a lot of pizzazz. You can mimic different textures of wood and ceramic, and find textures that will fool anyone's eye. It is easy to clean, feel good to walk on, you can usually do a self-install, and if you have damage, you can patch it. Overtime, vinyl may bubble or curl, loose gloss and sharp objects can damage. Choose wisely.
Kitchen flooring options are endless. Look at other options like laminate, cork and even concrete! Your budget, usage, and size of the kitchen will make help decisions. You usually live with your kitchen floor a while so chooses something you won't get bored with. Have fun!